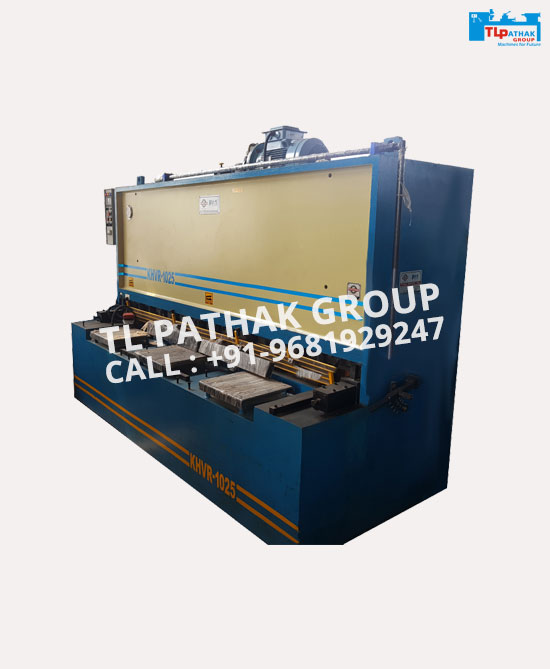 Hydraulic Shearing Machine
₹100,000.00
In Stock
Squaring arm 1000mm at left with hardened lines.
Squaring arm 600mm at right helps distribute wear.
Front gauging with stops, scale on squaring arm.
Hardened rods recessed table for easy sheet feeding.
Sheet supports 1000mm help supports long plates.
Ramp on rear slides cut out sheet outside shear area.
Foot switch movable for operation from self position.
Finger safety guard with clear view of lighted cutting area.
Efficient compact power pack minimum piping.
Electrical neatly wired-cabled for trouble shooting.
Order by Phone
+91-9831029247
Shipping Information Usually dispatched With In business days
Model
Shearing Length
mm
Shear Thic Rake Angle/(Min./Max.)
Rake Angle
Rake Angle Range
Strokes/Minute at Min. & Max.
Rake Angle
Holddowns
Holding Force kgs.
Power H.P.
Over all Diamensions
in mm
(L x W x H )
Approx.
Weight
Kgs
LHVR325
2500
3.15 / 4
2 / 3
1'15"
0.5-2"
28-13
13
2500
5
3150 x 2000 x 2400
3800
LHVR330
3000
3.15 / 4
2 / 3
1'15"
0.5-2"
24-9
16
2500
5
3500 x 2000 x 2400
4400
LHVR412
1250
4 / 6
3 / 4
1'37"
0.5-3"
33-17
5
4000
5
2000 x 2000 x 2400
2700
LHVR415
1500
4 / 6
3 / 4
1'37"
0.5-3"
30-15
8
4500
5
2250 x 2000 x 2400
3200
LHVR420
2000
4 / 6
3 / 4
1'37"
0.5-3"
28-13
11
6200
7.5
2750 x 2000 x 2400
3500
LHVR425
2500
4 / 6
3 / 4
1'37"
0.5-3"
26-8
13
8000
7.5
3400 x 2350 x 2450
5200
LHVR430
3000
4 / 6
3 / 4
1'37"
0.5-3"
24-6
16
10000
10
4000 x 2350 x 2450
6000
LHVR440
4000
4 / 6
3 / 4
1'45"
0.5-3"
22-6
20
12000
10
4500 x 2350 x 2450
8500
LHVR615
1500
6 / 8
4 / 6
1'45"
0.5-3"
24-8
9
6600
10
2250 x 2350 x 2500
4000
LHVR620
2000
6 / 8
4 / 6
1'45"
0.5-3"
22-7
11
6500
10
2750 x 2350 x 2500
4300
LHVR625
2500
6 / 8
4 / 6
1'45"
0.5-3"
28-8
14
8500
15
3400 x 2350 x 2500
6200
LHVR630
3000
6 / 8
4 / 6
1'45"
0.5-3"
24-6
16
10800
15
4000 x 2200 x 2500
7000
LHVR640
4000
6 / 8
4 / 6
2"
0.5-3"
24-6
20
13600
20
5100 x 2700 x 2800
8400
LHVR815
1500
8 / 10
6 / 8
2"
0.5-3"
22-10
9
10500
15
2250 x 2600 x 2650
5000
LHVR820
2000
8 / 10
6 / 8
2"
0.5-3"
18-8
11
12500
15
2750 x 2600 x 2650
5500
LHVR825
2500
8 / 10
6 / 8
2"
0.5-3"
24-8
14
16300
20
3500 x 2600 x 2650
6800
LHVR830
3000
8 / 10
6 / 8
2"
0.5-3"
20-6
16
18500
20
4200 x 2600 x 2650
7700
LHVR840
4000
8 / 10
6 / 8
2"
0.5-3"
20-8
20
23000
25
5200 x 2900 x 2800
13500
LHVR1015
1500
10 / 13
8 / 10
2"
0.5-3"
20-10
9
10500
15
2250 x 2650 x 2700
5500
LHVR1020
2000
10 / 13
8 / 10
2"
0.5-3"
18-8
11
12600
15
2750 x 2650 x 2700
6000
LHVR1025
2500
10 / 13
8 / 10
2"
0.5-3"
24-8
14
17500
20
3600 x 2650 x 2700
8000
LHVR1030
3000
10 / 13
8 / 10
2"
0.5-3"
20-6
16
20000
20
4200 x 2650 x 2700
10500
LHVR1040
4000
10 / 13
8 / 10
2"
0.5-3"
18-6
20
25000
30
5200 x 2900 x 2900
15200
LHVR1320
2000
13 / 16
10 / 13
2"
1-3"
13-5
11
16500
20
2750 x 2650 x 2950
7000
LHVR1325
2500
13 / 16
10 / 13
2"
1-3"
15-10
13
32000
25
3600 x 2650 x 2950
9600
LHVR1330
3000
13 / 16
10 / 13
2"
1-3"
12-6
16
37000
25
4200 x 2650 x 2950
11800
LHVR1340
4000
13 / 16
10 / 13
2"
1-3"
10-4
20
22000
30
5200 x 3000 x 3050
17800
LHVR1620
2000
16 / 20
13 / 16
2"
1-3"
13-7
11
20000
25
2750 x 2950 x 3150
12000
LHVR1625
2500
16 / 20
13 / 16
2"
1-3"
15-8
13
40000
30
3600 x 2950 x 3150
12000
LHVR1630
3000
16 / 20
13 / 16
2"
1-3"
12-6
16
43500
30
4250 x 2950 x 3150
15300
LHVR1640
4000
16 / 20
13 / 16
2"
1-3"
10-4
20
30000
30
5200 x 3050 x 3500
21500
LHVR2020
2000
20 / 25
16 / 20
2"
1-3"
16-8
11
32000
40
2900 x 2950 x 3150
17000
LHVR2025
2500
20 / 25
16 / 20
2"
1-3"
15-8
13
48000
40
3600 x 2950 x 3150
18000
LHVR2030
3000
20 / 25
16 / 20
2"
1-3"
12-6
16
52000
40
4250 x 2950 x 3150
20000
LHVR2040
4000
20 / 25
16 / 20
2"
1-3"
10-4
20
30000
50
5200 x 3050 x 3500
24000
Moving beams synchronized by differential cylinders.
Shearing-clamping forces adjustable to suit jobs.
Both Blades premium HCHCR, with four useable edges.
Cutting lengths and positions adjustable for shorter jobs.
Beam returns on releasing foot switch smaller cut.
Cutting area illuminated for clear view of blades.
First two hold downs spaced closer at both ends
Sheet front feeding system.
NC background with ball screw.
Hydraulic rear sheet support.
Automatic control shearing.
Sheet rear stacking system.
Motorize back gauge
Self lubrication
Motor mounting bracket
Motor pulley
V belts
ELECTRIC PANNELS
ROOFINGS
BUS BODIES
KITCHEN EQUIPMENTS
GENERATOR ENCLOSURES
STEEL TANKS
STAINLESS STEEL EQUIPMENT'S
COIL CUTTING INDUSTRIES
AIR CONDITION DUCTS
CONTAINER MANUFACTURING
FLOUR MAKING MACHINES
INDUSTRIAL STRUCTURES
RAIL COACHES
TIPPER TRUCKS
WIND MILL MANUFACTURING
TURNINE ENCLOSURES