Pathak Hydraulic Hacksaw Machines Manufacturer Best Selling in India
Hydraulic Hacksaw Machine is recognized for its low maintenance, durability, and rigidity. Pathak Hydraulic Hacksaw Machine is best for cutting huge segments of metal pieces such as iron or steel. When dealing with work procedure these machines make piece cutting in assorted materials of various thickness or diameters. And, these machines could be maneuvered with various grade saw blades coordinating the correct teeth per inch accessible in different models with changeable cutting capacity. Hydraulic hacksaw consists of 2 speeds and it is handled by V- Belts.
A Pathak Hydraulic Hacksaw Machine India works on tough and time-consuming tasks. It has an attribute of power saver; with its automatic lift to bow on the execution of the cutting cycle and the motor switches itself off automatically.
Pathak Hydraulic Hacksaw Manufacture designs it in such a way that it gives standard cutting on all materials of nickel, steel, chrome to plastic. It is made available with easy to use and simple controls for well-matched operations. The main basis of hydraulic hacksaw machines is that it makes use of metal joining rod which helps to change from circulatory motion to translator motion. It's heavy and rigid body improves its longevity of life, giving more accuracy with worry-free operations.
You may inquire more about the machine by contacting us.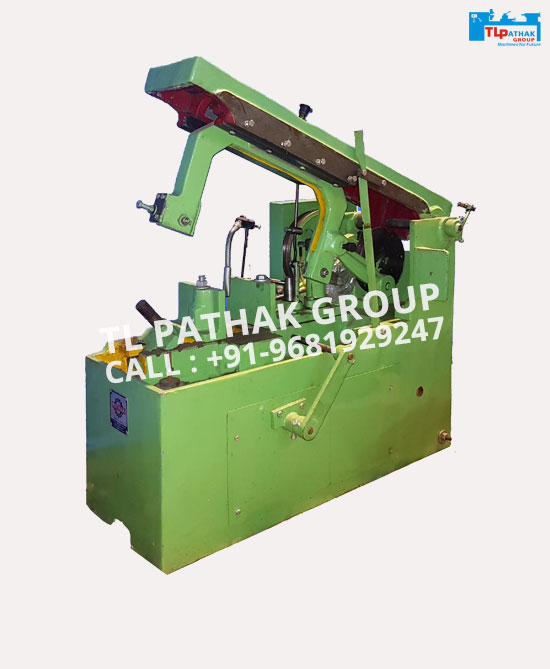 Hydraulic Hacksaw Machine Manufacturer
₹150,000.00
In Stock
Hydraulic Feed Control
Hydraulic Relief to Swa Blades on non-cutting Stroke.
Automatic lift to bow on completion of cutting cycle and motor switched off automatically.
Two speeds and driven by V- Belts.
Cut Metals of all kinds and strengths.
High output at low initial cost.
Order by Phone
+91-9831029247
Shipping Information Usually dispatched With In business days
| SIZE | 8" | 10" | 12" | 16" | 20" | 24" |
| --- | --- | --- | --- | --- | --- | --- |
| STROKE (ADJUSTABLE) | 51/2" | 51/2" | 51/2" | 51/2" | 51/2" | 51/2" |
| NO OF STROKE PER MINUTE | 100 TO 120 | 85 TO 100 | 85 TO 100 | 70 TO 85 | 60 TO 75 | 60 TO 75 |
| BLADE SIZE | 12" OR 14" | 16" OR 18" | 18" OR 20" | 22" OR 24" | 30" | 36" |
| CAPACITY OF ROUND BAR | 7" | 10" | 12" | 16" | 20" | 24" |
| CAPACITY OF SQUARE BAR | 5" | 8" | 10" | 13" | 16" | 16" |
| R.P.M | 1440 | 1440 | 1440 | 960 | 960 | 960 |
| ELECTRIC MOTOR REQUIRED | 1 H.P | 2 H.P | 2 H.P | 3 H.P | 5 H.P | 7.5 H.P |
| LENGTH | 3'-2" | 3'-10" | 4'-2" | 4'-10" | 5'-10" | 6'-2" |
| BREATH | 1'-4" | 2'-3" | 2'-3" | 2'-6" | 3'-2" | 3'-2" |
| HIEGHT | 2'-8" | 3'-6" | 3'-6" | 5'-0" | 6'-0" | 6'-6" |
| WEIGHT(APPROX) | 300 kgs. | 550 kgs | 600 kgs. | Kgs | 1100 kgs. | 1300 kgs. |
| V-Belt required | 3 Pcs. | 3 Pcs. | 4 Pcs. | 4 Pcs. | 4 Pcs. | 4 Pcs. |
HIGH GRADE CASTING BODY
ROBUST FRAME
COOLANT TRAY
INSTRUCTION MANUAL
BAR SUPPORT STAND
TILTING ANGULAR VICE
HACKSAW BLADE
ELECTRIC COOLANT PUMP
ELECTRIC MOTOR, STARTER, VEE BELT
TOOL ROOMS
EDUCATIONAL INSTITUTES
WORKSHOPS
ROLLING MILLS ETC