The Best Known Patak Centerless Grinding Machine in India
The Patak Centerless Grinding Machine is a machining procedure that uses coarse cutting to get rid of material from a work piece. Centerless grinding is unlike from centered grinding processes in that no fixture or spindle is made use of to position and secure the work piece; the material is well secured between 2 rotational grinding wheels, and their speed of rotation is respective to each other regulates the rate at which material is separated from the work piece.
In Patak Centerless Grinding Machine India, the work piece is clutched between two wheels, revolving in the same direction at contrasting speeds, and a work holding platform. One of the wheels is called the grinding wheel, it is on an anchored axis and it rotates in such a way that the force asserted on the work piece is lead downward, opposed to the work holding platform. By having an elevated tangential speed compared to the work piece at the point of connection, this is how the wheel generally performs the grinding action. The other wheel, in the Patak Centerless Grinding Machine Manufacture, is known as the controlling wheel, it is movable. This wheel is placed to put lateral pressure on the work piece and mainly it has likewise a rubber-bonded or a very rough grinding to catch the work piece.
You may inquire more about the machine by contacting us.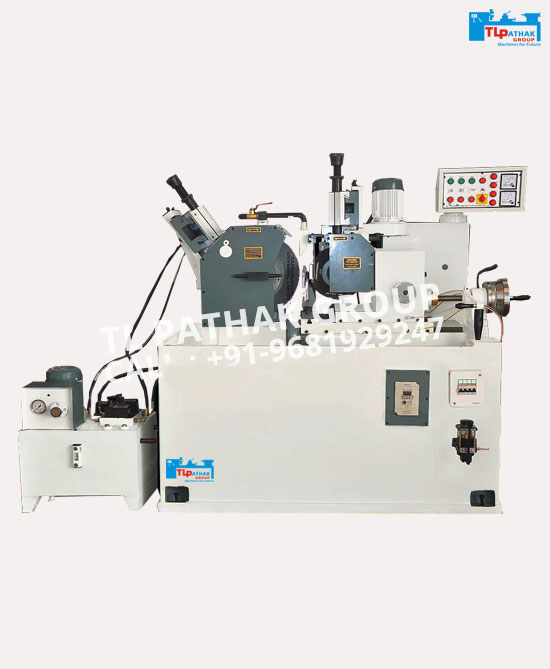 Centreless Grinders
₹80,000.00
In Stock
Order by Phone
+91-9831029247
Shipping Information Usually dispatched With In business days
|  MODEL |  AMI- 1 |  AMI- 2 |  AMI- 3 |
| --- | --- | --- | --- |
|  Maximum Grinding Diameter |  75 mm |  75 mm |  125 mm |
|  Minimum Grinding Diameter |  Min. |  1 mm |  1.5 mm |
|  Maxi. included angle for taperwork (Without using forming attachment) |  5 deg. |  5 deg. |  5 deg. |
|  Speed of grinding wheel R. P M. |  1600 |  1800 |  1250 |
|  Number of speeds of Control wheel |  3 |  3 |  3 |
|  Diameter of grinding wheel |  350 mm |  350 mm |  350 mm |
|  Maximum Width of grinding wheel |  100 mm |  100 mm |  150 mm |
|  Diameter of hole in grinding wheel |  125 mm |  150 mm |  300 mm |
|  Diameter of control wheel |  230 mm |  230 mm |  300 mm |
|  Maximum width of control wheel |  100 mm |  100 mm |  150 mm |
|  Diameter of hole in grinding wheel |  75 mm |  75 mm |  125 mm |
|  H.P. of motor for wheel head |  5 H. P. |  7.5 H. P. |  15 H. P . |
|  H.P. of motor for control wheel |  3/4 H.P. |  10 H. P. |  2 H. P. |
|  Speed of motors RPM |  1440 |  1440 |  1440 |
|  Floore space for machine |  30″ X 40″ |  30″ X 40″ |  43″ X 65″ |
|  Approximate weight |  1600 Kgs. |  1650 Kgs. |  2600 Kgs. |
One Grinding Wheel
One Regulating Wheel
Two Truing Devices
Coolant Pump with Tank
Grinding Wheel Puller
Grinding Wheel Pulley Pulle
Grinding Wheel & Regulating Wheel Nut Spanner
Work Rest Blade for Through Grinding
Splash Guards
Allen Keys and Spanners Set
Hand Pump Lubrication for slides
Machine Lamp
Wheel Balancing Stand with Arbour
Additional Wheel Flange
Additional Work Rest Blade
Magnetic Coolant Separator
AC variable speed Motor for Regulating Wheel
Gearless Hydraulic Motor for Regulating Wheel
Auto InfeedGrinding
Auto Ejector/Lifter for infeedgrinding
BimetalicBush Bearing for Grinding Wheel Head
Bar Feeder for long Bars Grinding
Vibratory Feeder
Automatic Feeder for through-feed Grinding
Anti-Vibration Pads
Automatic Balancing of Grinding Wheel