First-Class Heavy Duty Pathak Band Saw Machines
Pathak Industries Pvt. Ltd. is the leading exporter and manufacturer of Band Saw Machine that diligently supports wood, metal, plastic, steel, cutting machine workshops and industry worldwide by providing them our advanced and resolute lineup of Pathak Band Saw Machine, Heavy Duty Band Saw machine. These Band Saws give out long term reliability in its performance in work, quality, and durability. At Pathak Band Saw Machine Manufacture, we produce first-class metalworking machines of wide variety and sizes. These machines are highly demanded to meet all needs of convenient cuttings as in implementations of the automobile, engineering, forgings and more.
Pathak Band Saw Machine India features the effectiveness of cutting metal, wood and other hard material and gives paramount levels of consistency, corrosion resistant, easy maintenance, and cost-effectiveness. It meets all industry standards of quality hence it offers splendid performance with zero trouble. The Saws have made it very easy to maintain high capacity which is necessary for many industries' goings-on. It cuts the rocklike metal with great capability, it also includes a metal cooling system and it keeps the blades lubricated and cool. The machine is very quiet and effectively performs machinery work on metals used for various tasks.
You may inquire more about the machine by contacting us.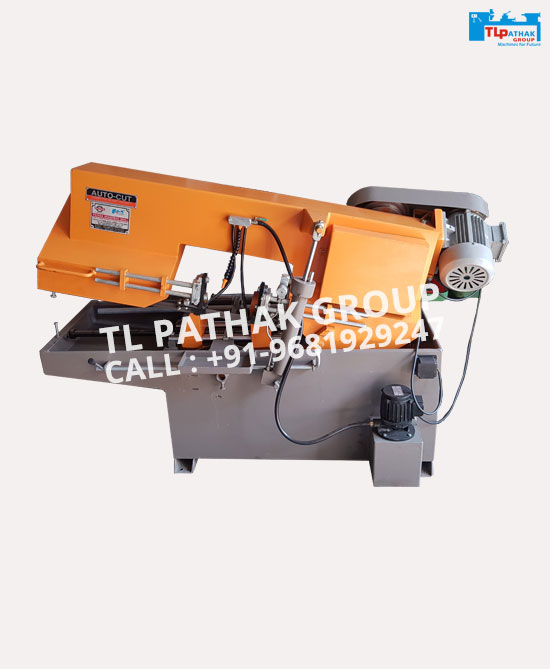 Bandsaw Machine
₹100,000.00
In Stock
Easy set-up and heavy duty vice.
Positive clamping on full range of capacity.
Economic in power consumption.
Special swing cut operation for fast cutting.
Specially designed heavy duty gear box.
Order by Phone
+91-9831029247
Shipping Information Usually dispatched With In business days
MODEL
Unit
VK-9
VK-14
Cutting capacity
Round Rectangle Square
mm
220
350
mm
250*125
350*150
mm
220*220
350*300
Blade Dimension
mm
2540*27*0.9
4100*34*1.1
Drive Motor
Power
H.P.
1
2
Speed
RPM
1440
960
Power
RPM
0.15
0.15
Speed
H.P.
2800
2800
Blade Speed
Mtr/Min
25-40
25-40
Overal Dimension(L*B*H)
mm
1675*760*1395
1825*1090*1725
HIGH GRADE CASTING BODY
ROBUST FRAME
COOLANT TRAY
INSTRUCTION MANUAL
BAR SUPPORT STAND
TILTING ANGULAR VICE
HACKSAW BLADE
ELECTRIC COOLANT PUMP
ELECTRIC MOTOR, STARTER, VEE BELT
TOOL ROOMS
EDUCATIONAL INSTITUTES
WORKSHOPS
ROLLING MILLS ETC