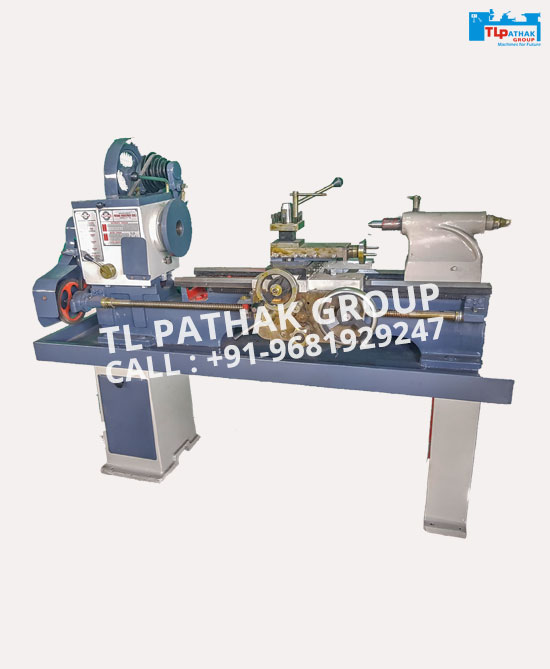 4.5 FT Lathe Machine 9 X 6
₹ Price On Request
In Stock
Light duty, precision quality, simple type, CENTRE LATHE Machine with head stock fitted with taper roller bearings & machine bed guide-ways being FLAME HARDENED, complete with all std. accessories such as : chuck back plate, motor pulley, 2 nos. dead centres size MT-3, spindle sleeve, square tool post, thread dial indicator, switch stand, belt guard & set of change gears but without electricals similar to the catalogue enclosed. Machine having length of bed 1350mm., width of bed 225mm., height of centre 150mm., admit between centres 660mm. & spindle hollow 41mm., Model : PLD-4.
Order by Phone
+91-9831029247
Shipping Information Usually dispatched With In business days
TECHNICAL DATA AND SPECIFICATIONS FOR STANDARD MODEL VGM – 215 SUPER SERIES
Centre Height over flat bed ways
215 m.m.
Swing Over Bed
423 m.m.
Swing Over Cross Slide
250 m.m.
Swing in Gap
620 m.m.
Width of Bed
277 m.m.
MODEL
ADMIT BETWEEN CENTRES
LENGTH OF BED
Floor Space
Occupied (m.m.)
Approx.Weight in Kgs.
Approx. Case
Dimensions (m.m.)
Nett.
Gross
HGM-1
450 m.m.
1370 m.m.(4′-6″)
1650×970
775
825
2000x1000x1500
HGM-2
725 m.m.
1600 m.m.(5′-3″)
1950×970
850
900
2200x1000x1500
HGM-3
950 m.m.
1830 m.m.(6′)
2100×970
875
925
2500x1000x1500
Face Plate(One)
Chuck Plate(one)
Centers(Two center adapter(One)
Stationery steady(One)
Follow Rest Assembly(One)
Set of 22 change
Gears (One)
Motor Plate (One)
Electric Motor
Starter or Electric Coolant Pump
4jaw independent chuck
3jaw self centering chuck
Gears to cut metric threads
Taper turning attachment
Tool post grinder & Double Gap or Triple Gap etc.
Oil country
Steel & paper mills
Power plants
Ship building
Mining and textile industries